Movers in Santa Rosa Ca, Best Prices and Service in Sonoma County
Posted Jan 25th, 2011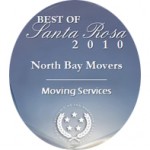 Elizabeth Dain of Santa Rosa called North Bay Movers and is a return customer.
Once again she used our Free online  Quote Page and booked the Service
This time she had a special request. Her ailing mother needed her things moved from an assisted moving arrangement to a more suited arrangement. Some Packing was needed.
See a short Packing video here!
This moving request included the need to load a rental truck for Elizabeth to drive back to Sacramento California.
Because of the need for not using a check we were able to invoice her through Pay Pal.
Once again North Bay Movers provides a great service for Sonoma County