About North Bay Movers – The Bay Area's Moving Company
Professional Movers Located in Santa Rosa and Lakeport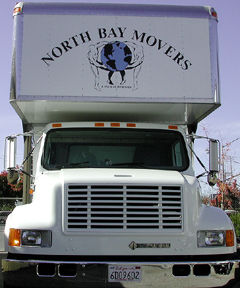 North Bay Movers is a moving company that operates in the Bay Area, moving anything and everything our customers need. We have over three decades of moving experience working with thousands of satisfied customers. We've been serving the residents of Sonoma County, Mendocino County, and Lake County for over 30 years.
North Bay Movers is the leader in providing cost-effective professional moving services, featuring neat, qualified personnel and quality equipment. We have two locations: one in Santa Rosa and one in Lakeport.
We are pleased to offer you a variety of high quality moving services, including: local and long distance house hold moves, off-site & in-house office moves, panel Installations, transportation of goods, shipping & receiving, and a full professional packing service.
Moving Specialty and Large Items
Moving and transporting specialty items is truly where North Bay Movers leads the way! Not only do we specialize in household moves, but we also specialize in moving items like: pool tables, hot tubs, gun safes, pianos, subzero refrigerators, commercial stoves, clawfoot tubs, and more.
Focused on You
We make every effort to research and accumulate all information necessary to make an accurate and practical recommendation on equipment and man power for each job we contract. Customer satisfaction is very important to us as a locally owned business.
From Santa Rosa to San Francisco, North Bay Movers helps people move their belongings quickly and safely. If you would like to get in touch with us for a free quote on your big move, check out our free quote form.
Efficiency and hard work are important to us—when you complete our free quote form, we return your moving estimate within hours or less.
North Bay Movers offers cost effective moving services in Sonoma County, Mendocino County, Lake County and the greater Bay Area including San Francisco and surrounding cities.
We at North Bay Movers are your neighbors. We're a part of the Bay Area community and work hard to be the best we can be. We invite you to give us the opportunity to provide you with our special brand of personalized attention.
If you're still not sure that we're the right choice, read our letters of reference from previous customers. See what real people around the Bay Area are saying about North Bay Movers!