Ukiah Movers, are Hot Tub Movers.
Posted Jan 24th, 2011
It's one thing to be "Piano Movers" OR "Organ Movers" OR "Pool Table Movers"
But "Hot Tub Movers"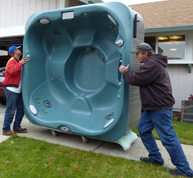 Not long ago we had a potential customer living in Ukiah California who heard of our talents moving specialty items like Pianos, Organs, Gun Safes, Pool Tables, and called to see if we could move Hot Tubs!
It was no surprise to get this request since North Bay Movers has been moving odd and special pieces since 1989.
She was unsure if we should see the job site or not first.
She was amazed at our Web Sites ability to give her the chance to customize her own virtual walk through! Our free Estimate Page was all she had to experience in order to see why 90% percent of our clientele use our very popular automated quick and accurate Free Online Quote Page.
At North Bay Movers we have developed a very special page for our customers "Moving Needs" On our site our free Quote Page gives each potential customer the ability to customize their own personalized moving needs. We even have the ability to allow our customers to use our automated image uploading device. Imagine having to explain a difficult flight of stairs. Or express that there are issues with your physical location that only a clear Picture can give! Well Now you simply click on "Upload your Pictures" It not only uploads your images but sizes them automatically so you don't have to.
Just another great tool for our customers to use in this fast pace life we live in.
"YET"
Although this tool is something we all can see has great benefits, there are those moments we must simply have the personalized touch that North Bay Movers can give. We have a great team of estimators that can come to you and give the personal touch you are looking for. Give us a call! 707-483-4792 and set up a walk through ! ! !